Defining Moments
A Cuban Exile's Story about Discovery and the Search for a Better Future
What's New:
Cholly Naranjo
July 9, 2014
Read about Cholly Naranjo at SABR.org Biography Project, a Cuban born baseball player and a member of the Pittsburgh Pirates during the 1956 season.
CurrentNews:
Upcoming Talk
January 21, 2015
Jose Ramirez will be at the Collier County Museum in Naples Florida on January 21, 2015 at 2PM to speak about his book "Defining Moments" and the conditions he found in Cuba during his multiple trips.
RecentEvents:
Jacksonville Presentation
January 24, 2014
A day long Lecture series at the Bishop Kenny High School in Jacksonville FL on January 24, 2014 to the Social Studies and History classes regarding past and current conditions in Cuba based on the author's personal experiences and research.
Reflections
This story is a reflection of times now past—times filled with change, transition, and discovery. Leaving his parents in Cuba at the age of fifteen to begin a new life, the author lived in transitional housing, a refugee camp, several foster homes, and alone until being finally reunited with members of his family years later. A member of the Pedro Pan Program, he was able to secure the basic necessities of life after his exodus to the United States and was able to graduate from high school, always pursuing the goal of securing a higher level of education. Letters from family in Cuba provided encouragement and emotional support, but ultimately he learned to rely on his own sense of what was right as he confronted those defining moments in his life when decisions had to be made. The author has taken a hard and sometimes painful look at his past to retrieve those memories of facing the challenges presented by an uncertain and undefined future.
Reflecting on the experiences of the author's trips back to Cuba over the last several years, the author has also come to certain conclusions about life in Cuba. Through exploring important topics and themes relevant to him, his family, and his home country, the author is able to reflect on that which has remained the same and that which has changed, always with the hope that a better future may be in the horizon.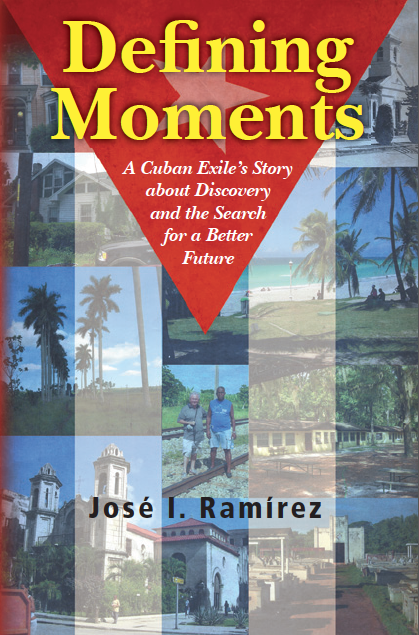 How to Order
Defining Moments : A Cuban Exile's Story about Discovery and the Search for a Better Future




Amazon.com, then type "Defining Moments Jose Ramirez " (hard copy and kindle format) or contact José Ramírez at

jignacior@comcast.net
Book Reviews
Wonderful, January 8, 2014. "This story by Jose could have been emotionally wrenching and sad. But instead it is a story of overcoming a terrible separation of a young man from his family is Cuba, being sent to the USA so that he could be spared a possible horrific life in a dictatorial country.
His parent's sacrifice is most amazing. It is good to read and hear that the sacrifice was for the best for their son. Jose could have let this time in his life "define" the rest of his life in a much less successful manner. Instead he persevered and became a productive citizen and a husband and father to a loving family. He has made a difference by influencing many people in a positive way.
I enjoyed the book very much. I wish for him that the remainder of his life will be happy and content. But not so content that he doesn't continue to tell his impressive story of survival and accomplishment in the face of adversity."
Great book, August 21, 2013. "What a fascinating read! I really enjoyed this wonderful story of a young man sent away from Cuba by his parents to escape communism. I learned a lot about life in Cuba and the daily difficulties people face when ruled by tyrants. I highly recommend this book."
Enjoyable read, July 5, 2013. "It was a wonderful book. An autobiography of a Cuban Immigrant who came over in the early 60's as part of the Peter Pan flights. A poignant tale of a Child sent away from his homeland by his parents, so he could have a better life. A young man in a strange land. How he coped with the conflicting views of other Cubans regarding the embargo and the Castro regime. Thought provoking and easy to read."
An "affecting" read, July 1, 2013. "This is not the "great American Novel", but then it doesn't pretend to be. What it is, is a compelling recount of a boys confrontation with the complexities of being thrown into a new culture and adapting. Perhaps what "affected" me the most was the always positive perspective Jose had towards what had to be a terribly frightening journey. In addition, I found his description of Cuba from 1959 through today much more refreshing and credible than anything I have seen elsewhere. I had planned to skim the book, but before I realized it, I had read it cover to cover."
An Enlightening Perspective of the Pedro Pan Program, June 11, 2013. "Little did I realize that when Jose' Ramirez contacted me via email on March 3, 2011 and asked to be put on the Agenda for our High School 5oth Reunion held in 2013, that he would impact my life and everyone in the room. Tears fell and applause given as he spoke of the time they first arrived on our soil and the kindness and generosity of our class in receiving the Pedro Panes in 1961. He also stated that his book, "Defining Moments" was about to be released. Many of us have now purchased it and I can honestly say it is well worth the read. It is a book that can't be "put down". The emotional struggles, the secrecy, and the sacrifices that parents had to make to "let go" of their children for them to have a better life in America is heart rending. Becoming a US citizen, receiving a higher level of education made his parents very proud of him for they knew they had made the right decision in letting him go. The decision for Jose' to return to his Homeland after 33 years is even an emotional event for the reader. "Defining Moments" is a "must read".
"Very Touching, June 6, 2013. I had the pleasure of meeting the author and his wife at my husband's 50th high school reunion in May. I was so intrigued with the stories that he shared about his experience as a Pedro Pan participant that I could hardly wait for his book to be released. I finished the book today and have to say that it was extremely moving. The manner in which the book is written makes the reader feel as if you are sitting around the table listening to the author tell of his life experiences. The sacrifice that his parents made in sending him to the United States truly defines the love a parent has for their child. I loved the stories of the author's reconnection with family and friends on his subsequent visits to Cuba. This is one of those books that you cannot put down and do not want to end. Thank you Jose for sharing this amazing story."