Cuban Baseball Biographies
Julio "Monchy" de Arcos
This article was written by José Ramírez and Rory Costello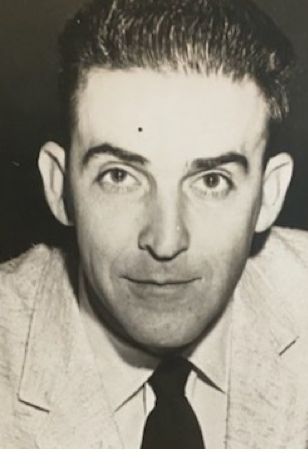 Julio "Monchy" de Arcos (1922-1966) was a Cuban executive and scout. He was associated with the major leagues as early as 1941, when the Brooklyn Dodgers trained in Cuba's capital, La Habana. Thanks to his friendship with Leo Durocher, then Brooklyn's manager, he was the Dodgers' interpreter and batboy. In the mid-1940s, de Arcos became a minority owner of the Almendares Alacranes, one of four clubs in his homeland's storied professional league. In 1952, he added duties as general manager of Almendares.1 Around then, he also began serving double duty as a scout, first for the Pittsburgh Pirates and later for the Cleveland Indians. He set several fellow Cubans on the road to the majors, including:
Like many of his countrymen, de Arcos left Cuba for the United States in the early 1960s, in the wake of Fidel Castro's revolution. He continued to scout for Cleveland until his untimely death in a car accident at the age of 43.
Julio de Arcos was born in La Habana on December 14, 1922. His name at birth was Ramón Antonio Juan Suero y Álvarez Arcos. "Monchy"2 is a common nickname for people called Ramón, and it stuck with the young man even after his legal name changed. He had originally been christened after his father, Ramón Suero Bernal – but Ramón Suero the younger's name was modified to Julio Antonio Juan de Arcos Romero. This reflected the given name of his maternal grandfather and the family names of his mother, Elena Guillermina Álvarez de Arcos y Romero. The change was prompted by the breakup of his parents' marriage, a highly unusual occurrence in the then very Catholic nation.3
The elder Ramón had also been named for his father, Ramón Suero Toyos, proprietor of Suero y Compañía, a grocery firm. This company was known as one of Cuba's biggest dealers in rice, coffee, and tasajo (dried beef). Suero Toyos died in 1915 (in a car accident, as his grandson would perish half a century later). Suero Bernal – aged barely 20 – took over the business. He died in 1939.4 On December 3, 1940, his son's name change took effect with a government decree in Cuba's Gaceta Oficial (Official Gazette).5 Elena took this opportunity "because she could," according to Monchy's daughter-in-law, Jessica de Arcos.6
After her marriage to Ramón Suero Bernal dissolved, Elena obtained a law degree and joined Bufete Arcos, the law firm run by her father. She subsequently was married twice more.7
By some accounts, de Arcos received some schooling in America. Whether or not he did, by the time he'd reached his teens, young Monchy had at least a working knowledge of English. According to Jessica de Arcos, Elena was a linguist. The family had the financial means to travel and gain exposure to foreign languages.8
In both 1936 and 1937, the St. Louis Cardinals visited La Habana as part of their spring training. Cuban Miguel Ángel "Mike" González (one of their coaches and previously a big-league catcher for many years) helped make it possible. On one of those trips de Arcos became friends with Leo Durocher, then the Cardinals' starting shortstop. Laraine Day, the actress who was married to Durocher from 1947 to 1960, told the story in her 1952 book Day with the Giants. She described de Arcos as "a Durocher addict" and recounted, "Monchy, then a small boy, asked Leo for an autograph. Leo of course gave it to him, and when he got back to his hotel that night he found his room filled with roses. From a start like that, it was only proper that a warm friendship should arise."9
Durocher's version of the tale appeared in his 1975 memoir Nice Guys Finish Last. As he recalled, he was in Cuba on a delayed honeymoon with his first wife, Grace (whom he married in 1934, suggesting that it was the Cards' 1936 trip). With the passage of time, he remembered teenaged Monchy as being just five or six, "all dressed up in his Sunday suit, neat as a pin. He was so cute that I got him a baseball and autographed it for him." The rest of his account parallels Day's.10
In the spring of 1941, the Dodgers came to Cuba. Durocher had been managing that team since 1939; his friendly association with de Arcos resulted in official duties with the club for the young Cuban. Photos show de Arcos, in uniform, drilling Charlie Gilbert, Johnny Hudson, and Pee Wee Reese in basic Spanish phrases written on a blackboard.11 De Arcos apparently was also an active player (at third base).12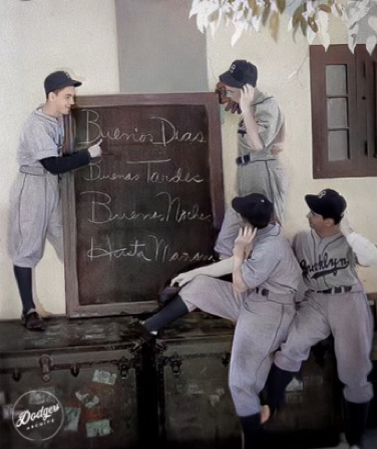 One incident from that trip has often been chronicled. This account synthesizes various others, including Durocher's own and Laraine Day's. Shortly after the Dodgers arrived, they played a Cuban all-star team. A dispute arose in the ninth inning with the home plate umpire, Amado Maestri (the description of the play varies). Durocher "came out of the dugout as if shot from a catapult," said Day, who heard the story from de Arcos. Durocher got into a rhubarb with Maestri, the chest-to-chest argument escalating into a shoving match.
De Arcos, who was serving as Durocher's translator, apparently relayed the manager's words – "dirty sonofabitch" – verbatim. Durocher later observed, "How was a kid to know I didn't mean exactly?" Still arguing, he was escorted off the field by six military policemen at bayonet point.
That night, word reached Dodgers general manager Larry MacPhail that Cuban president (later dictator) Fulgencio Batista had loved what he thought was a show and wanted Durocher to do it again the next day. According to de Arcos, Durocher wanted to reply to Batista, "I'll promise you an even bigger crowd if you will promise me a military funeral!" De Arcos convinced his friend that it was not advisable.13
The Dodgers returned to Cuba in 1942. The pictorial magazine LIFE ran an article titled "They Practice and Play Hard at Spring Training in Havana," accompanied by an extensive series of photos.14 De Arcos is not visible, but one may infer that he and Durocher saw each other as usual.
De Arcos attended La Universidad de La Habana, where he studied law, obtaining his degree in 1943. This explains the occasional references to him in the press as "Dr. de Arcos": In Spanish-speaking countries it is customary to refer to attorneys as doctors in law. He too joined Bufete Arcos.
De Arcos belonged to an upper-crust establishment in Cuba's capital: the "prestigious and powerful" Vedado Tennis Club (VTC), "composed of patrician members."15 Another Cuban baseball man, Bobby Maduro (six years older than de Arcos), was also a VTC member. The Maduro family had grown wealthy first from sugar and later from insurance. Bobby had played for the VTC's amateur baseball team – as did de Arcos, former Cuban amateur player Julio Carrillo remembered. The Marqueses competed in La Unión Atlética, a Cuban amateur league. De Arcos was the center fielder and Carrillo was the shortstop – and because Carrillo's career started in 1951, de Arcos was still an active player at least until then. Looking back in 2022, Carrillo (who was elected to the Cuban Sports Hall of Fame in 2004) called de Arcos "a good friend and a great person."16
The VTC's members were mostly fans of the Almendares baseball club.17 That team's ownership changed for the better in 1944 when sportsmen from the VTC took control. The majority owner was Dr. Julio Sanguily, who asked for $100,000 from a consortium. De Arcos joined, albeit with a relatively small holding.18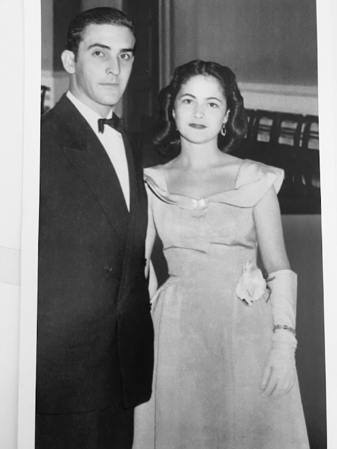 On April 13, 1947, de Arcos married Cristina López-Oña (1924-2014).19 She came from another well-to-do family that possessed land holdings and sugar mills in the province of Las Villas. Her grandfather left the family land and buildings.20 Cristina attended Swarthmore College, where her roommate was a young lady member of the Kennedy family. This connection enabled her to seek proper medical care in 1960 for her second son, Jorge Antonio.21 An additional indication of Cristina's social standing was that she had been elected "Miss Victoria" of the Habana Yacht Club in 1943.22 Another of the city's famous institutions, this club "was for the exclusive use of upper-class whites."23
De Arcos reportedly tried to purchase a different Cuban League team in early 1952. That June, it was reported that Miguel Ángel González, by then owner of Rojos de La Habana, was "all set to sell…but just as the papers were to be signed, someone reminded Miguel that he would have to pay income tax to the tune of $48,000, leaving him only $252,000 as his net." González apparently asked de Arcos and his associates to cover the tax, but that proved to be a deal-breaker.24
July 1952 brought a report in The Sporting News that de Arcos had been newly appointed general manager of Almendares. Former big-leaguer Andy High, who had long been scouting for the Dodgers, was named head scout for the Alacranes. High's duties included selecting American minor-leaguers to join the Blues (as the club was also known). Almendares also hired Bobby Bragan as manager to replace Fermín "Mike" Guerra. Branch Rickey (by then general manager in Pittsburgh) and Leo Durocher (who'd become skipper of the New York Giants) recommended both appointments.25
Bragan himself described how de Arcos formed his own view of the managerial hiring. In a February 1992 letter to author Roberto González Echevarría, Bragan stated, "I was managing Fort Worth in the Texas League [a Dodgers Class AA farm team]. Monchy de Arcos came to Dodgertown in Vero Beach [Florida] and would sit in the meetings with the managers and scouts each night during spring training. He was impressed with me, I suppose, at those meetings and consequently asked me if I wanted to manage Almendares."26
"Everything is new," de Arcos commented ahead of the 1952-53 Cuban season. "It is my prediction that the Almendares team will be on a comeback campaign this season – headed straight for the top."27 As it developed, the Blues finished tied for second at 37-35, six games behind Rojos de La Habana.
As of early 1953, outfielder Román Mejías was working in a sugarcane mill. He joined pro baseball because the Pirates had been invited to spring training in La Habana that year. Branch Rickey decided to hold a tryout camp to search for prospects from the Cuban countryside. De Arcos paid for Mejías' trip to La Habana to attend the camp.28 Mejías first played in the Cuban league with Almendares during the 1954-55 season.
The 1953-54 Blues, again managed by Bragan, won the Cuban League pennant by a comfortable margin over the Rojos. Thus, they went on to the Caribbean Series, the round-robin tournament that pitted the region's winter league champs against each other. Cuba went 3-3 and tied for second behind Puerto Rico. Almendares was without the services of first baseman Rocky Nelson, who was ordered by his boss – Indians GM Hank Greenberg – to rest before spring training.29 According to the obituary of de Arcos that ran in The Sporting News, he joined the Indians at some point in 1954, hired by Greenberg.30 These dealings imply a connection.
During the summer of 1954, de Arcos served as spokesman for the Caribbean Federation as the Latin American winter leagues negotiated with Commissioner Ford Frick over how many U.S. players could be allowed on their clubs' rosters. In the winter of 1953-54, the limit was five: three regulars and two "rookies" (defined as men with less than 45 days of major-league service). De Arcos sought a modification of that rule in the interest of lessening financial strain on the Latin American clubs. That request was granted, and a variety of other conditions were hammered out in the meetings with Frick.31
Almendares, still with Bobby Bragan at the helm, repeated as Cuban champion in the 1954-55 season. In the Caribbean Series, Cuba went a disappointing 2-4 as Puerto Rico won again.
In June 1955, de Arcos was quoted on the benefits of winter ball to established big-leaguers. He cited the case of Joe Coleman. "When Coleman came to Havana two winters ago," he said, "he was considered all but washed up by the Philadelphia Athletics. But he recovered his skill here and had a good year the following season. Last year he didn't pitch winter ball and he hasn't been very successful so far in 1955."32
De Arcos went on to observe, "Some of the better players in the majors are from Latin America. And those players frequently went into winter ball almost as soon as the season in the United States ended." League president Arturo Bengochea added that several recent Sporting News Rookies of the Year – including U.S.-born men as well as Cuban Orestes "Minnie" Miñoso – had seen action in winter leagues before achieving success in the majors.
The next month, the Caribbean Federation found itself wrangling again with Ford Frick over the issue of major-leaguers in winter ball. Sportswriter Dan Daniel quoted de Arcos at length in his article. The main issue was economic survival. Using his own Almendares club as an illustration, de Arcos said, "We have five players who belong to major league clubs. If we are deprived of the services of these players, we are forced to throw up the sponge."33
Yet, according to de Arcos, it was also a question of honor and justice. "Our native players must be guaranteed to us…We are reputable, honest men who pay our debts. But we haven't the same rights in baseball as a barnstorming tour promoter. Where is there any justice in that?" He also talked about how Cuban players, who lacked the winter job opportunities available to U.S. players, would risk injury by playing in bush leagues to pick up needed money in the off-season.34 As it turned out, all of Cuba's major-leaguers were allowed to play in their homeland's league in 1955-56, for the first time in four seasons.35
During that season, legendary Cuban pitcher Conrado Marrero managed Almendares, taking over for Bobby Bragan. After a disappointing last-place finish, Emilio Cabrera was named to replace Marrero the following year.36
Around the time de Arcos joined the Indians, he had first noticed the talent of a young infielder named Miguelito de la Hoz, who was playing for the amateur team sponsored by Liceo de Güines, a private society in the town of Güines, about 30 miles southeast of La Habana. De Arcos sat with de la Hoz's parents during games in La Unión Atlética, the amateur circuit which included the Liceo team. From Liceo, on September 29, 1957, de la Hoz signed as a pro with Almendares for the 1957-58 winter season. At age 19 in 1958, he began his U.S. career in the Indians system.
The Alacranes were then managed once again by Bragan, whom Cleveland had named as skipper right after the 1957 big-league season had ended.37 He had re-signed to lead Almendares even before the Pittsburgh Pirates dismissed him that August.38 De Arcos, in his capacity as the Alacranes GM, retained Bragan.
De Arcos was "a great human being, very generous," said José Campos, a well-respected and well-known sports radio commentator in Southern Florida.39 Leopoldo "Leo" Posada – first cousin once removed of Jorge Posada – also told author Lou Hernández about it in an interview for the book Memories of Winter Ball. In 1958, Posada was having a good year in the U.S. when he broke his ankle. He returned to Cuba and de Arcos came to see him at his house. Posada said, "De Arcos told me not to worry, and brought me an Almendares contract to sign, with a guarantee that the team would help me rehabilitate my ankle so that I could continue my baseball career. Monchy de Arcos was great to me. He put me in touch with someone I owe a great deal to, a trainer named Raudor Ruiz…I was able to completely recover and return to the sport thanks to him [Ruiz]."40
It's noteworthy that de Arcos was not acting on behalf of the Indians when he helped Posada. The outfielder was then under contract with the Kansas City Athletics, for whom he eventually played in parts of three seasons from 1960 to 1962. But as Posada noted, "Arturo Bengochea…and González with Habana, Bobby Maduro, co-owner of Cienfuegos… and Monchy de Arcos, they were all men of great character."41
A similar story regards Bob Allison, who'd played in 1958 for Chattanooga in the Southern Association. Allison approached José Padilla, a Cuban playing for Nashville in the same league, and asked him if he could reach out to de Arcos because he wanted to play in Cuba. Padilla did, and soon after Allison got a call from de Arcos to play for Almendares. Padilla also called de Arcos "a good person, always helpful."42
Almendares won its third Cuban League title of the decade in the 1958-59 season. This time the Alacranes won the Caribbean Series, going 5-1.
Not long before, on January 1, 1959, the Cuban Revolution had ended. As author César Brioso noted, "After the triumph of the revolution, gun-toting rebel soldiers became a common sight at El Gran Stadium." Two of the soldiers "became almost like mascots for the team." Brioso quoted Miguel de la Hoz: "These two always went to games, big fans of Almendares. When we won the championship, Monchy de Arcos. . .invited them to fly on the plane with us for free and to stay with us there [in Caracas, which hosted the Caribbean Series that year], and the team paid their costs." The soldiers were, as ever, well-armed when they boarded the flight – and when it landed, the Venezuelan airport officials were alarmed.43
Beyond the courtesy he showed the barbudos44, however, de Arcos was deeply concerned. Tommy Lasorda – another member of the 1958-59 Almendares champs – had discussed the revolution with him. In Colin Gunderson's 2015 book, Tommy Lasorda: My Way, Lasorda recalled, "When Castro came in, the people were celebrating because they thought he would be good for the country and so did I. We had a general manager, Monchy de Arcos, and he told me that Castro was not a good man, that he was a communist. I thought when he took over that he would be a savior for the country. I found out I was wrong."45
The following season, shortstop Antonio "Tony" Martinez became another Cuban prospect who followed the same path as de la Hoz. He started with Almendares in the winter of 1959-60; the following spring, he joined an Indians farm club and began his journey to the majors.
Also at the end of the 1950s, another pair of prospects caught de Arcos's eye. Jackie Hernández, originally a catcher, was first spotted by Cuban scout Miguel Asso in the potreros (cow pastures) of Matanzas province. Asso recommended him to de Arcos, and soon after, Hernández was invited to an open tryout. Also present at that tryout was another catcher, Paul Casanova. Casanova had been signed previously by Almendares, but only for one year, so he was trying out again. Both signed with Almendares and subsequently with the Indians. Casanova's U.S. pro career began in 1960 and Hernández's in 1961.
As life changed in Cuba under Castro, Cuban players faced danger. In 2016, Leo Posada revealed his own personal drama.46 He recalled how during the 1960-61 Cuban season – the last for the professional league there – he homered against Luis Tiant, who would be named the circuit's Rookie of the Year. The next time they faced each other, Tiant drilled Posada in the ribs. The next day, a Sunday, Posada was unable to play. Monday was a day off; his painful ribs still sidelined him on Tuesday and Wednesday.
On Thursday, de Arcos told Posada he had overheard the barbudos saying that Posada was actually not playing because he was a counterrevolutionary, like his uncle – who had been put to death in the Escambray Mountains in December 1960 during a failed insurrection against Castro. De Arcos also heard them say that if Posada didn't play that night, he would be put in jail.
Troubled, Posada left the clubhouse and asked the trainer to bring the largest bandage he could find and wrap it around his midsection as tightly as possible. Then he went to see his manager, Sungo Carrera, and told him he was playing that day. Carrera said, "Are you crazy?" Posada responded, "No, put me in," and he played. Posada was not going to jeopardize his life, or at least his career.47
Amid the circumstances, players who remained on the island also formed plans to leave. De Arcos helped them and their families; one example was Miguel de la Hoz. After the 1960-61 winter season ended, he was living with his aunt in La Habana, where he moved after signing to play professionally. De Arcos suggested that Miguelito might wish to get a visa for his parents so they could go to the U.S. and see him play. He did and secured a tourist visa for them, valid for five years.
At the time, there was an arrangement between major-league baseball and Mexico to allow Cubans to play in Mexico – but in reality, it was a way to obtain a visa to enter the United States. De Arcos was the one person who knew when the Cubans in the Indians organization would leave the island and was in charge of notifying them. In early March 1961, de la Hoz went to the Mexican Embassy in La Habana, secured a visa, which was waiting for him, and left for Mexico City. He left without a suitcase and with only $5 in his pocket. He then continued on to Miami, to which he returned at the end of the 1961 summer season, living with de Arcos and his family. He then learned that his parents were coming to the U.S. on the visas he had obtained at the suggestion of de Arcos.48
The Cuban League planned to open its 78th season on October 20, 1961. A month before that date, though, de Arcos announced that Almendares would withdraw from the league and stay out "as long as Fidel Castro is in power." Many star Cuban players also did not want to go back home. This spelled doom for the league.49
The Castro regime had confiscated the de Arcos family's property, which included a plantation.50 In 1960, at the age of 12, son Julio came to the U.S. to attend a camp in New Hampshire – but thereafter he stayed in Florida, as had been planned by the family.51 Cristina also apparently came to the U.S. for good in 1960.52 Meanwhile, as travel records show, Monchy came to the U.S. from La Habana several times in 1960 and as late as March 3, 1961 (the last professional baseball game in Cuba was played on February 8, 1961). Research has also indicated that he traveled through Mexico, arriving in the U.S., as late as 1962.53 Previous trips were partly related to his responsibilities with the Cleveland team.54
De Arcos and his family, like so many of their countrymen, took up permanent residence in Miami. The last of their four sons, Edward, was born in the United States in 1963. He joined brothers Julio (1948-2019), Jorge ("Yoyi" – 1949-2016), and Enrique ("Henry" – born 1958).55
De Arcos called himself "a scout without a territory" and "expected the Indians to drop him from their staff, but Vice-President Hoot Evers kept him to cover Florida and used him for special assignments."56
One of those assignments was special indeed. In his 2019 memoir, Son of Havana, Luis Tiant told the story of how he came to play baseball in the United States. He had started his pro career in Mexico, and in July 1961, he was named to the Mexican League All-Star team for the second year in a row. This meant playing in the Pan-American Association All-Star Games, which matched the best talent from the Mexican League against the best from the Texas League, first in Mexico City and then in San Antonio. Tiant got into the second game and pitched well against a lineup featuring many future big-leaguers. De Arcos was there. "He told his bosses about me," said Tiant, "and Cleveland purchased my contract."57 Not long before, de Arcos had come to visit Tiant in person in Puerto Rico, which the young man greatly appreciated.58
According to the Sporting News obituary of de Arcos, Vic Davalillo was another of his discoveries. This is an anomaly, because Davalillo began his U.S. pro career with the Cincinnati Reds organization in 1958. However, the records of SABR's Scouts Committee give de Arcos shared credit for the signing along with Bobby Maduro and Charlie Metro.
One may also surmise that de Arcos had a hand in bringing the wiry little Venezuelan outfielder into the Indians chain in 1962. In 1961, Davalillo played for the Jersey City Jerseys, a Reds farm team that had been transplanted from La Habana (where the club was known as the Sugar Kings) in July 1960. The International League dropped Jersey City as a location that October. The owner – Bobby Maduro – held onto the franchise in its new home, Jacksonville, Florida. He established a new working agreement with the Indians, who purchased Davalillo's contract. Since Maduro was his own general manager in Jacksonville, he almost certainly was responsible for this deal (as he was for the original signing of Davalillo). Maduro and de Arcos knew each other well, going back to their VTC membership, as well as their friendly rivalry that arose from Maduro's ownership of the Cienfuegos team and the role de Arcos played with Almendares.59 It's reasonable to believe that they may have conferred.
A report in The Sporting News from April 1962 showed that de Arcos was active in Mexico. He selected five prospects who were supposed to join the Indians system, with either of two Class D clubs: Dubuque in the Midwest League or Selma in the Alabama-Florida League.60 According to Baseball-Reference.com, only one of the five did. However, another of those players – pitcher José Peña – eventually made it to the majors from 1969 through 1972.
De Arcos was back in the news in August 1962 as a 17-year-old Cuban named Manuel Enrique Hernández Gazmuri made headlines. Hernández was a lefty pitcher who had starred in Cuba's amateur competition, La Serie Nacional.61 According to the Associated Press report of August 14, de Arcos had seen Hernández 15 months previously and invited him to the U.S. for a tryout.62 A direct quote from the scout put the date of their last encounter at December 1960.63
Amid suspicion that the young man planned to defect, praise from the Castro regime turned to condemnation. Despite being under guard, Hernández escaped, joining four others in a 16-foot rowboat powered by a small motor. After a perilous 16-hour journey, the boat landed at Marathon in the Florida Keys.64 "When we got there," said Hernández in March 1963, "I contacted Monchy de Arcos…whom I knew well in Cuba."65 De Arcos met the pitcher at the immigration office in Miami. He took care of the red tape, bought the refugee some clothes, and flew to Cleveland with him. There they met Indians GM Gabe Paul, with de Arcos translating, and a contract was signed.66
The Indians' new prospect was assigned to Charleston in the Eastern League (Class A). Like many other Latino players, he came to be known in the U.S. by his mother's family name. As Manuel Gazmuri, he made a promising debut on August 22, homering in his first pro at-bat and allowing just one unearned run in three innings.67 As it turned out, though, he played mainly at first base over his three full seasons in the minors (1963-65). He never advanced beyond Class A despite showing some power.68
SABR's Scouts Committee also lists de Arcos in association with Cleveland's signing of five other big-leaguers to be:
Albury eventually made it to the majors as a pitcher but was drafted as a first baseman. In a curious twist, during his first pro season, he split time with Manuel Hernández Gazmuri.
In October 1965, de Arcos was quoted as saying that Latino players did not require special handling. "Oh, maybe our blood is a little hotter and we get excited more easily," he said with a laugh, "but all nationalities are different. Some of us respond better to a pat on the back than a kick in the pants, but not because we're Latins."71
That story also noted how de Arcos was preparing to become a citizen of the United States. On November 7, 1961, he filed his official Declaration of Intention document; citizenship was awarded on March 18, 1966.72
Less than a month later, on April 4, 1966, de Arcos was supposed to scout a game in the Tampa area. As fate would have it, the game was rained out, and he was driving on U.S. Highway 27 near the town of South Bay (just below the southern shore of Lake Okeechobee). "His car collided with a truck that had been traveling in the opposite direction but skidded out of control and blocked the highway. De Arcos, driving alone, was killed instantly."73 He was buried in a family plot in Our Lady of Mercy Cemetery in Miami.74
Not long before the fatal accident, de Arcos had helped Bobby Maduro's son Jorge, who played in the minors from 1969 through 1972. Through his friendship with Ron Fraser, baseball coach at the University of Miami, de Arcos made it possible for the younger Maduro to obtain a scholarship and play for the Hurricanes.75
A little less than a year after de Arcos's death, the Florida Major League Baseball Scouts' Association honored him. The Association voted to award a trophy in his name to Florida's top high school or college baseball coach.76 The Sporting News carried an item about the award as late as 1970.77
Also in 1967, the Monchy de Arcos Boys Baseball League was founded in Miami. It was headed by old friend Arturo Bengochea. The league won PONY Baseball's Bronco Division World Series that year. It dissolved in 1973.78
Following her husband's death, Cristina "worked tirelessly to take care of her children and continue her education." Eldest son Julio, who was just 18 years old, "helped care for his three younger brothers while he and his mother went to school." They graduated from the University of Miami in 1971 and received their diplomas together.79
Julio married Jessica Rinaldi on December 21, 1974. Among those who contacted the happy couple was Bobby Bragan, who later gave Julio a lifetime pass to any baseball games. That pass was handed down to their son, Monchy's grandson.80
Cristina and her children were chosen as Florida's "Hispanic Family of the Year" for 1990 by the Hispanic American Family of the Year Foundation. First Lady Barbara Bush was the foundation's national honorary chairperson. Congresswoman Ileana Ros-Lehtinen of Florida, a fellow Cuban émigré, spoke on behalf of all the state's nominees before the House of Representatives on April 25, 1990. Mrs. Bush honored the de Arcos family at a White House reception.81
Meanwhile, Monchy de Arcos himself remained well remembered. His grandson Miguel de Arcos attended Westminster Christian School in Miami from 1993 through 1996. Two other former Cuban big-leaguers who had known Miguel's grandfather – Cookie Rojas and Tony Pérez – came by to express their admiration for the man.82
Another such anecdote dates from 2001. Tommy Lasorda was invited to speak that year at Rollins College in Winter Park, Florida. He indicated that his speaking fee was $25,000. During the speech, Lasorda announced that he was donating his fee to the college in the name of Julio de Arcos.83
In April 2022, numerous people underscored what kind of person Monchy de Arcos was. Miguel de la Hoz called him "intelligent" and "decent."84 "Decent" was echoed by Betty Fernández, the widow of former major-leaguer Lorenzo Fernández, and Luis Tiant.85 Tiant added that de Arcos "always talked to the players." Leo Posada seconded that, noting how the GM was "always available."86 Willy Miranda Jr. – son of Willy Miranda, the Almendares shortstop for more than a decade – also observed, "He was like family, never forgot his players."87
Jessica de Arcos capped it all by calling her father-in-law "a man's man. When he spoke, everyone listened."88
Acknowledgments
Special thanks to the following people for contributing their memories of and information about Monchy de Arcos: Jessica de Arcos, José Campos, Julio Carrillo, Miguel de la Hoz, María de los Angeles (Betty) Fernández, Jorge Maduro, Willy Miranda Jr., José Padilla, Leo Posada, and Luis C. Tiant.
Thanks also to Clemente Amézaga for additional research.
This biography was reviewed by Gregory H. Wolf and Jan Finkel and fact-checked by Gary Rosenthal. Thanks also to Rod Nelson of SABR's Scouts Committee.
Photo Credits
All of the photos accompanying this story come courtesy of the Jessica de Arcos collection.
Sources
Books
Figueredo, Jorge S. Who's Who in Cuban Baseball 1878-1961. Jefferson, NC: McFarland & Co., 2007.
Ramírez, José Ignacio. Cuba and the "Last" Baseball Season. CreateSpace Independent Publishing Platform, 2018.
Internet
Genealogical information from geni.com.
Information on Oscar Zamora from his 1976 Topps baseball card, accessed via comc.com.
Notes
1 All four clubs in the league were based in La Habana. Almendares is a district of the capital city.
2 Pronounced MAWN-chy. The family name is pronounced day-AHR-cose. In Spanish, the vowel sounds are softer than in English.
3 Guillermo Jiménez, Los Propietarios de Cuba 1958, La Habana, Cuba: Editorial de Ciencias Sociales (2006): 25. Telephone interview, José I. Ramírez with Jessica de Arcos, April 13, 2022 (hereafter Ramírez-Jessica de Arcos interview).
4 "Suero y Compañía S. en C. de Ramón Suero Toyos," Yucayo.com, March 5, 2021 (https://yucayo.com/suero-y-compania-s-en-c-de-ramon-suero-toyos/)
5 Jiménez, Propietarios de Cuba: 25.
6 Ramírez-Jessica de Arcos interview.
7 Jiménez, Propietarios de Cuba: 26.
8 Ramírez-Jessica de Arcos interview. Corroborated by José Campos in an interview with José I. Ramírez on April 5, 2022 (hereafter Ramírez-Campos interview). Travel records, courtesy of researcher Clemente Amézaga, show Ramón Suero the elder and Elena visiting Key West, Florida, in 1922.
9 Laraine Day, Day with the Giants, New York: Doubleday (1952): 45.
10 Leo Durocher with Ed Linn, Nice Guys Finish Last, Chicago, Illinois: University of Chicago Press (1975): 193.
11 Another photo in the series, with somewhat different poses, is on the cover of Jim Vitti, Brooklyn Dodgers in Cuba, Charleston, South Carolina: Arcadia Publishing (2011).
12 Vitti, Brooklyn Dodgers in Cuba: cover credits in frontispiece.
13 Paul Dickson, Leo Durocher: Baseball's Prodigal Son, New York: Bloomsbury (2017): 93. Day, Day with the Giants: 48. Vitti, Brooklyn Dodgers in Cuba: 91. Durocher with Linn, Nice Guys Finish Last: 193.
14 Spring Training in Havana: Brooklyn Dodgers, 1942 – LIFE.
15 Joseph L. Scarpaci, Havana: Two Faces of the Antillean Metropolis, Chapel Hill, North Carolina: University of North Carolina Press (2002): 109.
16 Telephone interview, José I. Ramírez with Julio Carrillo, April 9, 2022.
17 Telephone interview, José I. Ramírez with Miguel de la Hoz, April 5, 2022 (hereafter Ramírez-de la Hoz 2022 interview). Telephone interview, José I. Ramírez with Willy Miranda Jr., April 5, 2022 (hereafter Ramírez-Miranda Jr. interview).
18 As conveyed to José I. Ramírez by José Campos, Jorge Maduro, and Jessica de Arcos, among others.
19 Wedding date from the research of Clemente Amézaga.
20 Ramírez-de la Hoz 2022 interview.
21 Ramírez-Jessica de Arcos interview.
22 Jiménez, Propietarios de Cuba: 26.
23 Esteban Morales Dominguez, Race in Cuba, New York: Monthly Review Press (2013): 34.
24 Oscar Ruhl, "From the Ruhl Book," The Sporting News, June 11, 1952: 16.
25 Pedro Galiana, "Bob Bragan to Be Cuban Winter Pilot," The Sporting News, July 16, 1952: 33.
26 Roberto González Echevarría, The Pride of Havana, New York: Oxford University Press, 2000: endnote 9 for chapter 8.
27 Pedro Galiana, "Lindell Adds Hill Strength to Cienfuegos," The Sporting News, October 8, 1952: 29.
28 Les Biederman, "Bucs Found Mejias Loading Cane in Interior of Cuba," The Sporting News, April 20, 1955: 11. This article misspelled Mejías' first name as "Ramon" and de Arcos' name as "Munchy D'Arcos." SABR's Scouts Committee also gives credit to Corito Varona, Howie Haak, and George Sisler.
29 Pedro Galiana, "Almendares Faces Shifts for Caribbean Title Series," The Sporting News, February 17, 1954: 28.
30 "Obituaries," The Sporting News, April 16, 1966: 56 (hereafter "TSN Obituary").
31 Hy Turkin, Frick Lists 'Do's' and 'Don'ts' for Latin Ball," The Sporting News, August 4, 1954: 1, 4.
32 Pedro Galiana, "Cuba Hails Lane's Okay on Minoso for Winter League," The Sporting News, June 15, 1955: 42.
33 Dan Daniel, "Latin Loop Envoys Outline Problems in Confab with Frick," The Sporting News, July 27, 1955: 5, 8.
34 Daniel, "Latin Loop Envoys Outline Problems in Confab with Frick."
35 Maximo Sanchez, "Minoso Heads Major Group in Cuban Loop," The Sporting News, October 5, 1955: 31.
36 Ruben Rodriguez, "Cuban Winter League to Lift Curtain Oct. 5," The Sporting News, October 3, 1956:40.
37 "Indians Oust Farrell, Hire Bob Bragan," Montgomery (Alabama) Journal, September 30, 1957: 14.
38 Don Dillmax, "Sports Week in Review," Pittsburgh Press, July 27, 1957: 7.
39 José I. Ramírez, interview with José Campos, April 5, 2022.
40 Lou Hernández, Memories of Winter Ball, Jefferson, North Carolina: McFarland & Company (2013): 52.
41 Hernández, Memories of Winter Ball: 54.
42 José I. Ramírez, interview with José Padilla, April 5, 2022.
43 César Brioso, Last Seasons in Havana, Lincoln Nebraska: University of Nebraska Press (2019): 109.
44 Barbudos was a nickname for government soldiers, especially those who had fought in the mountains in Cuba, because of the long beards they grew during the revolutionary war.
45 Colin Gunderson, Tommy Lasorda: My Way, Chicago, Illinois: Triumph Books (2015): 136.
46 José I. Ramírez, interview with Leo Posada, November 12, 2016 (hereafter Ramírez-Posada 2016 interview). Originally published in Ramírez, Cuba and the "Last" Baseball Season, CreateSpace Independent Publishing Platform (2018): 39-40.
47 Ramírez, Cuba and the "Last" Baseball Season: 39-40.
48 Interviews with Miguel de la Hoz by José I. Ramírez for Cuba and the "Last" Baseball Season, and subsequently used in de la Hoz's SABR biography.
49 Lou Hernández, The Rise of the Latin American Baseball Leagues, 1947-1961: 180.
50 TSN obituary. Julio E. de Arcos obituary, Orlando Sentinel, May 7, 2019 (https://www.orlandosentinel.com/news/obituaries/orl-obits-death-notices-20190507-story.html)
51 Ramírez-Jessica de Arcos interview.
52 Cristina López-Oña de Arcos obituary, Miami Herald, May 28, 2014 (https://www.legacy.com/us/obituaries/santacruzsentinel/name/cristina-de-arcos-obituary?pid=171150240).
53 From Clemente Amézaga's review of I-94 Immigration and other travel-related forms.
54 Ramírez-Jessica de Arcos interview.
55 Cristina López-Oña de Arcos obituary. Julio E. de Arcos obituary. Ramírez-Jessica de Arcos interview.
56 TSN obituary.
57 Luis Tiant with Saul Wisnia, Son of Havana, New York: Diversion Books (2019): page number not available. SABR's Scouts Committee also gives credit to Bobby Ávila.
58 José I. Ramírez, interview with Luis C. Tiant, April 6, 2022 (hereafter Ramírez-Tiant interview).
59 José I. Ramírez, interview with Jorge Maduro, April 6, 2022 (hereafter Ramírez-Jorge Maduro interview).
60 Roberto Hernandez, "Tigers Rated Threat for Mexican Pennant," The Sporting News, April 18, 1962: 36.
61 Adonay Villaverde, "La Historia No Contada de Manuel Enrique 'Amorós' Hernández," Grupo Cubano de Investigación del Béisbol, July 19, 2020 (https://grupogcib.wordpress.com/2020/07/19/la-historia-no-contada-de-manuel-enrique-amoros-hernandez/). The nickname was for fellow Afro-Cuban Edmundo "Sandy" Amorós.
62 "Refugee Will Hurl for Indians," Associated Press story in The Times Dispatch (Richmond, Virginia), August 15, 1962: 24.
63 Hal Lebovitz, "Tribe Inks Boy Who Risked Firing Squad," The Sporting News, August 25, 1962: 29.
64 Lebovitz, "Tribe Inks Boy Who Risked Firing Squad."
65 Joe Reichler, "Three Tribe Players Through with Cuba," Associated Press story in Oakland Tribune, March 4, 1963: 35. The other players were Pedro Ramos, who translated for Hernández, and Tony Martinez.
66 Lebovitz, "Tribe Inks Boy Who Risked Firing Squad."
67 A.L. Hardman, "17-Year-Old Cuban Refugee Hits Homer in O.B. Debut," The Sporting News, September 8, 1962: 36. A teammate in Charleston was Luis Tiant.
68 For more detail on the story of Manuel Hernández Gazmuri, see RJ McDaniel, "The 17-Year-Old Boy in the 16-Foot Boat," Fangraphs.com, April 17, 2019 (https://blogs.fangraphs.com/the-17-year-old-boy-in-the-16-foot-boat/). Another account draws upon the Villaverde and McDaniel stories. See Sandy Mederos, "La increíble historia de Manuel 'Amorós' Hernández y el 'plan macabro' que lo sacó de la Serie Nacional," Cubalite.com, unknown date (https://www.cubalite.com/la-increible-historia-de-manuel-amoros-hernandez-y-el-plan-macabro-que-lo-saco-de-la-serie-nacional/).
69 Shared credit with Corito Varona.
70 Shared credit with Dick Wiencek.
71 "Latins Require No Special Handling, Says Cuba Scout," The Sporting News, October 30, 1965: 10.
72 Dates from the research of Clemente Amézaga.
73 TSN Obituary.
74 The plot includes his maternal grandfather (Elena's father) and Elena, who died in 1995. Ramírez-Campos interview and Ramírez-Jessica de Arcos interview.
75 Ramírez-Jorge Maduro interview.
76 "Florida Scouts Elect," The Sporting News, March 11, 1967: 24.
77 "Scouts Salute Prep Coach," The Sporting News, October 10, 1970: 31. José Ramírez is told that it continues but has not been able to confirm it.
78 Florida Company Directory (https://florida-corp.com/co/monchy-de-arcos-boys-baseball-league-inc). "Past World Series Winners," PONY Baseball website (https://www.pony.org/Default.aspx?tabid=1184028)
79 Cristina López-Oña de Arcos obituary. Julio E. de Arcos obituary.
80 Ramírez-Jessica de Arcos interview.
81 Cristina López-Oña de Arcos obituary. Congressional Record, April 25, 1990 (https://www.govinfo.gov/content/pkg/GPO-CRECB-1990-pt6/pdf/GPO-CRECB-1990-pt6-4-3.pdf)
82 Ramírez-Jessica de Arcos interview.
83 Ramírez-Jessica de Arcos interview, with follow-up to confirm year on April 18, 2022.
84 Ramírez-de la Hoz 2022 interview.
85 José I. Ramírez, interview with Betty Fernández, April 6, 2022. Ramírez-Tiant interview.
86 Ramírez-Tiant interview. José I. Ramírez, telephone interview with Leo Posada, April 5, 2022.
87 Ramírez-Miranda Jr. interview.
88 Ramírez-Jessica de Arcos interview.