Cuban Baseball Biographies
Leo Posada
This article was written by José Ramírez - Rory Costello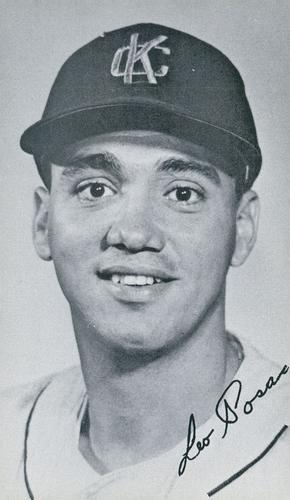 Cuban outfielder Leo Posada played in 155 games for the Kansas City Athletics from 1960 through 1962. However, his pro baseball career spanned 16 seasons as a player (1954-69) in the U.S. minors, plus a stint in Mexico. He also spent five winters in his homeland's league, from 1955-56 until the circuit ceased to operate after 1960-61. In addition, he played several seasons of winter ball in Nicaragua and Venezuela.
Posada had power, hitting 157 homers in the minors with a single-season high of 26. He batted .288 as a minor-leaguer, including .300 over eight seasons at Class AA. He also had good legs, having run track and been a high-level bicycle rider. He took much personal pride in being the only Cuban who was both an international bicycle star and a major-league baseball player.1 Posada remembered fondly being called "ciclista pelotero" (cyclist/ballplayer) by Ángel Scull and Edmundo "Sandy" Amorós, teammates in Cuba.2
Despite his ability, however, Posada was 26 by the time he reached the big leagues, and he never played a full season at the top level. He got into 116 games in 1961, serving as Kansas City's primary left fielder, but lost that job in 1962 to Manny Jiménez. After a trade that August, he was sent down and never made it back.
After his playing days ended, Posada went on to serve for many years as a respected coach and manager in the U.S. minors, Venezuela, and the Dominican Republic. His name later became known to new generations of fans in the 1990s and beyond, when his distant kin (at most) – Jorge Posada Jr. – became a star catcher for the New York Yankees.
Leo Posada is commonly referred to Jorge Jr.'s uncle – even Jorge Jr. has done so.3 Leo himself called the younger Posada's father (Jorge Sr.) his cousin.4 Yet it should be known that Leo had but one sister, Martha, and no brothers – so he could not have been Jorge Jr.'s uncle.5 As nearly as can be determined by available family records, Jorge Posada Sr. may (possibly) have been descended from one of Leo's great-uncles.6 The terms "uncle" and "cousin" are often used more casually in the Cuban community than they should, though, which leads to the creation of inaccurate familial relationships. As the Cuban saying goes, "Todos somos primos (We are all cousins)."
Leopoldo Jesús Posada Hernández was born on April 1, 1934, in the neighborhood of La Víbora in La Habana, Cuba's capital city. Depending on the source, his year of birth was shown as either 1934 or 1936. For example, Posada's U.S. baseball cards during his career showed 1936. However, 1934 is the year reflected in official records and on his burial inscription.7
Leo's father, Leopoldo Posada Padín, was of Spanish and Italian descent. He worked at the Cuban Telephone Company and was married to María Luisa "Cuca" Hernández Rodríguez.8
Although Leo Posada was the consummate sports enthusiast, nothing was more important to him than his wife, Aida Teresita Blanco (born on October 3, 1933). They met and began their relationship when they were 12.9 Aida's parents, Francisco Blanco and Dominga "Dalia" Quintana, also lived in La Habana.
Leo's career in the sport of cycling began for the Buen Vecino club at the age of 14. His talent became evident as he won first place in a cycling race.10 He became a member of the cycling team at Colegio Roque, a private school.11 His trainer may have been his father Leopoldo, a cyclist who also participated in track and field.12 Young Leo, again like his father, ran track (though his event was the 400-meter dash, whereas his father's was the 600).
Leo became a champion cyclist in Cuba with the Huracán Club under Ángel Delgado. Later, according to Juan Díaz (trainer of the Cuban Olympic Cuban team), he competed with Luis Delgado (son of Ángel) during the Central American Games.13 Leo's nephew, Mario Enrique Barceló, continues to search for a bronze medal that his uncle won as a cyclist (again, one of his main competitors was Luis Delgado). This medal – one of many personal effects left behind in Cuba – celebrated a race in Martí Park, located near the waterfront boulevard known as the Malecón in La Habana.14
Although not in the Olympics, Posada represented Cuba in cycling at the 1951 Pan American Games in Buenos Aires, Argentina, and at the Central American Games in Guatemala in 1954. At one point, he held the Cuban speed record for a 1km race.15
As SABR member Sam Gazdziak observed in his Posada obituary, "However, the family passion for baseball eventually surpassed his love of cycling, so he devoted his energy to that sport instead."16 Actually, the elder Leopoldo Posada was more interested in individual sports such as boxing and track than in team sports.17 However, Leo's great-uncle, also named Leopoldo, played professionally in Cuba in the 1890s.18 Although no individual statistics are available, the great-uncle's documented career shows that he played eight seasons for the Cárdenas, Almendares, Águila Oro, Matanzas, and Fe teams, from 1889 through part of 1898. This could well have influenced Leo's interest in baseball.
With that background, Leo Posada developed as a player on the baseball field located on the corner of Mayía Rodríguez and Acosta Avenue in La Víbora, where he lived. As time went on, he would ride his bike to play at La Tropical, Abreu, and Guanabacoa baseball fields.19
Posada, then 17, joined a high-level amateur squad, the Fortuna Sports Club, in 1951. His position then was first base.20 As Cuban baseball historian Roberto González Echevarría wrote, "Fortuna was founded in March 1917 mostly as a soccer club…It was a middle class men's club made up largely of Spaniards and/or first-generation Cubans. Its soccer and baseball teams practiced at the University Stadium. It dominated the first half of the decade in the 1920s."21
Fortuna went on to win four championships between 1921 and 1937. The 1936 and '37 champions featured pitcher Daniel Parra22 , a diminutive lefty to whom Posada owed his professional baseball career. "Parrita" also had a distinguished pro baseball career in the U.S. minors (1944-54) and Cuba.23 He was named to the Cuban Sports Hall of Fame in 2003.24
Parra, who'd seen Posada play for Fortuna in 1953, recommended him to Cuba's Professional League.25 Parra took Posada to practice with the Habana Lions during the 1953-54 season.
Posada's first pro action came after he signed a contract with the Milwaukee Braves organization – also thanks to Parra.26 At age 20 – albeit listed as 18 – his first assignment in 1954 was the Lake Charles Lakers of the Evangeline League (Class C). He made the All-Star squad, gaining attention with a 26-game hitting streak.27 He also spent some time with Odessa (Texas) of the Longhorn League (another Class C circuit).
Posada won promotion in 1955 to the Corpus Christi Clippers in the Big State League (Class B).28 He'd played one game for that club the prior year.
During his early years, communicating in English was difficult. Pointing to items on a menu to order food at a restaurant was common.29 Posada felt this experience keenly. A couple of decades later, as a manager, he made special efforts to help his Spanish-speaking players adjust to baseball and life in the United States. He handed out bilingual tip sheets and gave English lessons. He emphasized his belief in helping people, not just ballplayers.30
Returning to Cuba, Posada married his sweetheart Aida on October 1, 1955.31 The ceremony took place at the Passionists Church in La Víbora.32 During their marriage of nearly 67 years, they had no children.33 Although she did not work outside of their home, Aida obtained a beautician's license in the United States.34
As for baseball at home, Posada joined the Habana Lions, managed by Adolfo (Dolf) Luque, for the 1955-56 season. He played in just four games and had one hit in three at-bats. He then went back to Corpus Christi for a second full season, building on his decent performance of 1955 with solid marks of 15 homers, 70 RBIs, and a .301 average in 135 games.
The following winter, a more established Posada played 26 games for the Lions, hitting .242.35 While he was in Cuba, on December 3, the Kansas City organization acquired him via the minor-league draft. He split the 1957 summer season among three levels: Classes B, A, and AA.
Poised to make his mark at home, Posada was quite disappointed when he was left off the roster by the Leones manager, Gilberto Torres, in favor of Hiram González. Thus, in 1957-58 he left Cuba to play in Nicaragua for the GMC Camioneros.36 A December report also showed him playing for the Oriental club.37
Posada found himself back in Class B again in the summer of 1958, with Rochester (Minnesota) of the Three-I League. He was having a standout season – 12 homers, 42 RBIs, .308 batting average in 50 games – when on June 20, he broke his ankle as his spikes got caught in the dirt while trying to run back to third base on a pickoff play.38
Posada returned to Cuba, where he received a visitor at his house: Julio "Monchy" de Arcos, general manager of another team in the Cuban League, the Almendares Alacranes. Posada told author Lou Hernández about it in an interview for the book Memories of Winter Ball: "De Arcos told me not to worry, and brought me an Almendares contract to sign, with a guarantee that the team would help me rehabilitate my ankle so that I could continue my baseball career. Monchy de Arcos was great to me." Posada also expressed his gratitude to the trainer de Arcos recommended, Raudor Ruiz, who enabled a full recovery.39
Oddly, de Arcos was not acting on behalf of Kansas City when he helped Posada – he was then a Cleveland Indians scout. But as Posada noted, there were many men of great character in the Cuban league.40
Posada's batting average jumped to .270 with Almendares for the 1958-59 season. The Scorpions won the Cuban league's championship that year and so represented Cuba in the 1959 Caribbean Series, played in Caracas, Venezuela.41 Cuba won the round-robin tournament over the region's other winter ball champs with a record of 5-1. Posada remained with the Blues (as the team was also known) through his final professional season in Cuba in 1960-61.
In 1959, Posada moved up to Class AA for the full season – and produced his best offensive numbers to that point. Playing for the Shreveport Sports of the Southern Association, he hit .301 with 20 homers and 81 RBIs in 150 games.
After a respectable winter with Almendares in 1959-60 (.268-2-17 in 49 games), Posada had an excellent spring training with Kansas City in 1960. In fact, "he was the most impressive performer among the A's outfielders, but it was decided to send him back to the minors for more seasoning. . .some brushing up on his outfielding."42
Returning to Shreveport, Posada's home run total dipped to 18, but he lifted his average to .314 and his RBI total jumped to 122, again in 150 games. His reward, at last, was a callup to the majors.
In his debut on September 21, Posada struck out as a pinch-hitter against the White Sox. However, A's manager Bob Elliott started him as a corner outfielder in each of the club's remaining nine games. He got his first hit on September 23 off Detroit's Jim Bunning. He had a three-hit game including a triple on September 25; three days later came his first home run, off Cleveland's Jim Perry. Another three-hit game with another triple followed on the 30th. Posada went 0-for-4 in the final game of the season but still hit .361 in 10 games.
The eventful final season of professional baseball in Cuba then ensued. It was the first campaign to have started since Fidel Castro's regime came to power in early 1959.
To start with, players accepted a 25% reduction in salary, as league personnel reduced their income in order to avoid further losses. Pedro Galiana reported this on November 6, 1960, in his column "Desde el Bull Pen," which appeared in the newspaper Diario de la Marina. Galiana was also editor of the Habana sports journal El Crisol and was the Cuban correspondent for the The Sporting News in the 1950s.
Orestes (Minnie) Miñoso was then president of the players' association and Camilo Pascual was its treasurer. They held a meeting of all the players on the El Cerro baseball field and agreed to reduce salaries. Players earning approximately $2,000 per month took a cut to $1,500; those making $1,500 went down to $1,100/$1,200.43 Salaries during the Cuban league season were paid monthly for three to four months. A player in the U.S. at the Triple A level would get approximately $700, and at the AA level, $600. Reserves were paid $200. They were not on the active roster but would practice with the team.44
Less than a week later, on November 11, Galiana's "Desde el Bull Pen" column quoted Miguel Ángel "Mike" González, then still owner of the Habana Lions. González said, "This young man, Posada, of the Almendares club has become a great player, and you can see he will go a long way."
In 2016, Posada shared a story about the last pro season in his homeland. The events of the tale started to unfold the very same day that the González quote appeared: November 11, 1960. He requested that it be published because "it is about time people know what went on in Cuba."45 The true and sad personal drama illustrates the shift in the nation's political environment and what players dealt with in order to move forward with the life they wanted.
Posada recalled homering against Luis Tiant, who would be named the circuit's Rookie of the Year.46 The next time they faced each other, Tiant drilled Posada in the ribs. The next day, a Sunday, Posada couldn't play. Monday was a day off; his painful ribs still sidelined him on Tuesday and Wednesday.
On Thursday, Monchy de Arcos told Posada he had overheard the barbudos47 saying that Posada was actually not playing because he was a counterrevolutionary, like his uncle Piño Prieto48 – who had been put to death in the Escambray Mountains in December 1960 during a failed insurrection against Castro. De Arcos also heard them say that if Posada didn't play that night, he would be put in jail.
Troubled, Posada left the clubhouse and asked the trainer to bring the largest bandage he could find and wrap his midsection as tightly as possible. Then he went to see his manager, Sungo Carrera, and told him he was playing that day. Carrera said, "Are you crazy?" Posada responded, "No, put me in," and he played. Posada was not going to jeopardize his life, or at least his career.49
Years later, this story was shared with Luis Tiant, who remembered well hitting Posada but had been unaware of the aftermath and the pressure Posada had endured.50
Posada indicated that nobody knew the demise of the Cuban professional league was imminent until a Cuban government representative, Felipe Guerra Matos, met with the players and told them.51
During Posada's last season in Cuba, he hit .274 in 208 at-bats, with eight homers. In 167 games overall during his five seasons as a pro there, he averaged .270 in 419 at-bats. Posada is not known to have identified his most difficult mound opponent in Cuba – but it's unsurprising that he always referred to Camilo Pascual's curveball.52
As was true of many other players, Posada had been counseled by family members – his father and mother-in law – that leaving Cuba was the proper action. Ultimately, over 90% of the players during that last season left the island for the U.S. to pursue their professional baseball careers, leaving behind family, friends, and country.
It was recognized in the U.S., however, that Posada might face trouble getting out. "If he is refused, the A's will be dealt a blow," observed Kansas City beat writer Ernest Mehl. "The youngster, in his appearances near the end of last season, indicated some interesting promise."53
Posada finally left Cuba via Mexico, never returning to his homeland. Camilo Pascual, then with the newly relocated Minnesota Twins, and José Ramón López (then a Cleveland Indians farmhand) were among those traveling with him. His wife followed two weeks later. Securing a visa at the Mexican Embassy in Habana, upon arriving in Mexico players got some money and their expenses; lodging at the Virreyes Hotel was arranged and paid for.54 The next day, they got a visa at the U.S. embassy and generally left that same afternoon for the U.S.55 Posada arrived in the U.S. on March 3, 1961, to join the Kansas City club.
Following Leo's exit from Cuba, his father Leopoldo quit his job at the phone company when the Cuban government took it over. He too started to prepare to leave the country, along with Leo's mother María Luisa and sister Martha. But it took time; the Posadas were not reunited for more than a year.
Amid this personal upheaval, Leo Posada continued with baseball. He set about trying to win a job on Kansas City's Opening Day roster. A line on Posada's 1961 Topps baseball card referred to his first stint in the majors, "Everyone was delighted at the fine hitting he did." He'd missed a good chunk of spring training to start with and was also hampered by a bad ankle; in addition, he had to impress a new manager, Joe Gordon. Nonetheless, he did indeed start the year with the big club, winning the right field job from veteran Hank Bauer.56
As it developed, Posada spent almost the entire season with the A's, except for a brief stretch back in Shreveport in May. He got into 116 games, starting 53 in left field, 23 in right, and 17 in center. He played the most of anyone on the club in left because Norm Siebern was used a great deal at first base, as was also the case in 1960. In 344 at-bats, Posada hit a modest .253 with seven homers and 53 RBIs.
The absence of the Cuban league caused Posada and many others to look elsewhere to play winter ball.57 He joined Pampero in the Venezuelan league and hit well (.326-2-20 in 138 at-bats). That began a long and fruitful experience in Venezuela. Representing the Caracas Leones, he also took part in the Inter-American Series, successor to the Caribbean Series after the withdrawal of Cuba.
Posada opened the 1962 season in left field for Kansas City, starting eight of the club's first 10 games. However, Hank Bauer (who'd replaced Gordon as manager midway through the 1961 season) benched him and used him mainly as a pinch-hitter.
On a happier note, Leo and the Posadas reunited at last in Kansas City at some point in mid- to late April 1962.58 Leaving behind virtually all of their worldly possessions, the women departed Cuba first, followed by Leopoldo Sr., who had to turn in the family car to the government. Two weeks after his wife and daughter left, he rejoined the family.59 That very emotional reunion is still felt today.
The parents and Martha settled in Raytown, Kansas, where Leo Jr. and Aida lived. "He's already talking about finding a job," Leo Jr. said of his father. "I want him to take it easy for a while. He took care of me for a long time. Now I want to take care of him."60
Posada's last appearance in the majors came on July 20, 1962. He grounded out as a pinch-hitter for fellow Cuban Diego Seguí. On August 3, Kansas City traded him and Bill Kunkel to the Braves organization for another Cuban pitcher, Orlando Peña. Posada was assigned to Toronto in the International League.
In the winter of 1962-63, Posada returned to Nicaragua, playing with the Oriental club. After starting the 1963 season with Toronto, he was reassigned to Hawaii in the Pacific Coast League. Subsequently, on July 19, he joined Monterrey of the Mexican League "with the expressed ambition of making a comeback in the major leagues."61 In his only experience in Mexico, Posada played 35 games for the Sultanes, with good but not eye-popping numbers (.267-3-20 in 120 at-bats).
After another winter in Nicaragua, this time with León, Posada represented Cinco Estrellas of Nicaragua in an international series in that nation's capital, Managua. Estrellas won the tourney with a 5-1 record.62
Posada joined the Houston Colt .45s organization in 1964. He was assigned to San Antonio of the Texas League (Class AA) and had a strong year: 22 homers and 90 RBIs while batting .272 in 121 games. That June, The Sporting News ran an item called "Posada Gamble Pays Off." It noted, "Released by Monterrey. . .the veteran Cuban outfielder was picked up as a free agent and has become the Bullets' leading slugger."63 He was named a Texas League All-Star.
According to Posada, torn ligaments in his right knee had jeopardized his career in 1963. However, an old friend from Cuba, Houston scout Tony Pacheco, landed him the job.64
That winter, Posada played for another Nicaraguan club: Bóer. He had a particularly strong season: .314-11-41 in 185 at-bats.65
The Astros (as the Colt .45s franchise had become known) had a new location for their Texas League affiliate in 1965: Amarillo. With the Sonics, Posada was again named to the league's All-Star squad – in fact, he won the Texas League's Most Valuable Player Award.66 He led the league with 26 home runs (a career high), 107 RBIs, and 266 total bases. He credited a more open stance, which he'd adopted with Bóer the prior winter, for enabling better contact.67
Posada's power surge continued with Bóer in the winter of 1965-66 as he walloped 12 regular-season homers.68 He then served as a player-coach for Amarillo in 1966, followed by another winter with Bóer. The 1966-67 season was the last for that version of the Nicaraguan league, owing to political and economic difficulties.
Posada continued with the Astros as a player-coach for Oklahoma City (Triple A) in 1967. The following season, he was named the player-manager of the Cocoa Astros of the Florida State League (Class A) – the transition from old friend Tony Pacheco took effect in May.69 In between, he returned to Venezuelan winter ball with Magallanes. There he and his family shared housing and expenses with the family of fellow Cuban Lorenzo Fernández, as they had in Nicaragua. Betty Fernández, Lorenzo's wife, recalled the much larger and cosmopolitan Venezuela as a less familiar and comfortable environment for the family.70
In 1968, Posada and Aida became U.S. citizens in Miami District Court. They changed their names to Leo Posada and Aida Posada, respectively. Reasons for the change were not known.71
After another winter in Venezuela, this time with Tigres de Aragua, Posada completed his U.S. playing career in 1969 at the age of 35 with Cocoa. During the subsequent winter, his last playing action of any kind came in Venezuela: five games for Cardenales de Lara. In 389 total at-bats in that league, he had a robust .304 batting average.
Posada felt he still had more to give to the game – he continued his post-playing career as a manager, coach, and instructor. He was a minor-league manager for 1,026 games over nine seasons, leading his teams to a combined record of 438 wins and 588 losses (.427) in A, AA, and Rookie leagues. Eight of those seasons (1968-69, 1972-74, 1976-78) were with the Houston organization; he spent 1975 with the Yankees chain.72
In Venezuela, Posada managed Águilas del Zulia for part of the 1973-74 season, stepping in because countryman Octavio "Cookie" Rojas had to go back home to Miami to tend to his wife's health.73 Posada was also Lara's skipper for the 1977-78 season. But in that league, he distinguished himself in particular as a coach and instructor. He helped Zulia win the championship in 1983-84 as a coach under manager Rubén Amaro Sr.74
Previously, as a coach with Lara, Leo recommended another compatriot, Orlando González, to manager Bobby Cox. By virtue of his experience, he helped González to secure his playing position – but his greatest contribution was as a batting instructor, showing him a new grip to increase power. Previously, González choked the bat and hit line drives without much sting. During the 1976-77 season in Venezuela, Posada got him to take the bat at the end of the fingers and line up the knuckles a certain way. Getting results was difficult at first. However, the following season, 1977-78 – with Posada as his manager – González led the league in doubles (19) and triples (9), one short in each category of the Venezuelan league record. In 1978-79 he led the league with a .355 batting average.75
Professional colleagues considered Posada a very productive coach at third base, very dedicated to his job, professional and organized, always on time, punctual, a teacher at an individual level. He told players to think about where to position themselves, as well as about the opponents, their strengths and weaknesses. It was a very complete mental approach. Posada wanted to be known as a baseball man who was very disciplined. He did not like payasadas (clowning around) on the field.76
"A great instructor," said another fellow Cuban, Roberto (Bobby) Ramos, who benefited from Posada's guidance as his third base coach when Ramos played for Lara (1976-80). It helped Ramos play from 1978 to 1984 in the majors.77
After managing in the minors, Posada spent 16 years in the Dodgers organization, working as a minor-league hitting coach. During 1979, his first season with the Lethbridge (Alberta) Dodgers of the Pioneer League (rookie ball), he said, "I love to work with kids. It's such a thrill to see the kids develop." That same article noted that although Posada had enjoyed his time as a minor-league manager, he preferred being an instructor, dedicating himself to one area. He also accentuated the positive. When he saw something done wrong, he told the player instead what to do right.78
Posada remained a field leader, though. In the Dominican Republic, he led the Tigres de Licey during the 1991-92 season.
Posada also operated a hitting clinic out of his Miami home. Over the years, players including César Cedeño, Steve Sax, Raul Mondesí, David Ortiz, Mike Piazza, and Miguel Sanó benefited from his instruction.79
Posada's hitting technique included a number of steps. He insisted that a player not move to the next step until the previous one was mastered. It started by gripping the bat without the thumb. To have greater power, hands had to be placed like a boxer would. He felt that holding elbows high was a mistake. His philosophy was to "improve strengths vs. improving weaknesses." Sanó and José Iglesias, along many others, listened to his advice.
Jorge Posada Sr., who had worked as a supervisor in Latin America for 14 years and as an area supervisor for 11 seasons, was a notable scout. At some point, Jorge Sr. asked Leo to help his son, Jorge Jr., then a prospect, in whom Leo had already noticed certain weaknesses. Leo went to Puerto Rico after the season ended, where he played soft toss with Jorge Jr. in the back yard; they then progressed to making hard throws at a local field.80 During their training sessions, Leo even wore a Yankees cap – quite a challenge for someone who was a Dodger for 16 years.81
Posada felt (rightly) that Jorge Jr. was the best player in the family. He found his younger kinsman to be very reserved but a real gentleman.82 "I'm tickled to death with what he's doing," Leo said.83
The association between the two men was ongoing. In February 2006, when Jorge Jr. was a 34-year-old veteran, the New York Times described his preparations for the upcoming season. It showed Leo, then 71, lobbing batting-practice pitches in above the streams of air generated by a Jet-Tee device.84 On a related note, Leo had three shoulder surgeries, which he attributed to the amount of throwing he did as a batting instructor over the years.85
Outside of baseball, Leo loved being in business. He ran a bicycle shop in Miami with his father Leopoldo Sr. and brother-in-law Mario Alfonso Barceló, who worked at the store while Leo was traveling on baseball-related business.86
Much sought after for his baseball knowledge and experience, Posada's willingness to provide valuable information included contributions to SABR biographies. At the SABR Convention in Miami in 2016, Posada – along with Jacinto (Jackie) Hernández, Gonzalo (Cholly) Naranjo, and Miguel (Mike) de la Hoz – formed a very popular panel with moderator José (Chamby) Campos, a well-known South Florida radio personality. Always modest, Posada felt he was not as important as the others sitting beside him.87
Looking back at his career, Posada valued most the enormous celebration after qualifying for the playoffs with Cardenales de Lara, being named an All-Star for the first time with Lake Charles, his first game in the majors against the White Sox, and sitting alongside Whitey Ford during a game.88
Not short of opinions, he felt strongly that the World Baseball Classic should be played after the season ended so players would be more ready for the competition.89 He thought Ted Williams was the best hitter and read his book very carefully – but believed most people did not fully comprehend Ted's points about hitting. He viewed Mickey Mantle as the game's most complete player. His house was filled with memorabilia, including a bat signed by Roger Maris and Mantle.
Posada's many contributions to the game of baseball led to his induction to the Cuban Hall of Fame (in Exile) in 2010.90
After battling pancreatic cancer, Leo Posada passed away on June 23 at 9:35 AM.91 He was entombed at Flagler Memorial Park in Miami, Florida on June 29, 2022.92 As he wished, he was wearing his Los Angeles Dodgers uniform.93
Posada was mourned by his immediate and extended family. The latter group included brother-in-law Mario A. Barceló; nephews Mario Enrique and Javier Barceló; niece Martha María Stuhr; great-nephews Alyssa, Bryan, Alyson, and Carolyn; and cousins. All were dear to both Leo and Aida.
The mourners also included many friends, including baseball figures. Testimonials abounded following Posada's passing:94
Al Ávila wrote, "A great hitting coach and a great guy."

Bobby Ramos wrote, "Eternally grateful for all your help as a baseball player and father."

Orlando González wrote, "You made me a complete player and hitter."
Alfonso Saer, a longtime, well-respected baseball commentator – and the voice of the Cardenales de Lara in Venezuela since 1964 – expressed his admiration for Posada. He wrote of Leo's great relationship with Venezuelan baseball starting during the 1961-62 season and his contributions as a coach under Bobby Cox and later as manager. Saer stated, "Locuaz, ameno y cordial loquacious, pleasant and cordial], a favorite of the fans, Posada was a true friend and will be missed."95
Sadly, just over four months after Leo Posada died, Aida joined him on October 29, 2022, following an illness. On November 4, she was entombed in the same mausoleum crypt at Flagler Memorial Park.96
Acknowledgments
José I. Ramírez had the pleasure of interviewing Leo Posada in person for the SABR biography of Lorenzo Fernández on February 23, 2021. Previously, on November 12, 2016, Posada provided his input for José's book Cuba and the "Last" Baseball Season. Some of that material was used in the SABR biography of Monchy de Arcos and this story. In June and July 2016, they had a number of communications in preparation for the SABR Convention in Miami.
Special thanks and much appreciation to Leo Posada's family, who contributed their memories and shed significant light about Leo beyond baseball through very long interviews:
Mario Enrique Barceló – his nephew, who said, "It is an honor to speak about my uncle Leo Posada."

Martha Posada Barceló – his sister

Georgina (Prieto Posada) Echert – his first cousin, or prima hermana
Thanks also to the following:
Clemente Amézaga, who provided much-needed technical and search expertise, as he has on past SABR biographies.
José (Chamby) Campos, who opened doors to reach key sources that enabled the gathering of information.
María de los Angeles Alfonso Fernández Bru (Betty), widow of former major-leaguer Lorenzo Fernández, who donated Desde el Bull Pen columns on Cuban's newspaper clippings of the 1960-61 Cuban League Season.
Orlando González, former major-league player with the Cleveland Indians, Philadelphia Phillies, and Oakland Athletics.
Roberto (Bobby) Ramos, former major-league player with the Montreal Expos and the New York Yankees.
Fernando Rodríguez Álvarez, who freely shared stories and face-to-face interviews he conducted with Leo Posada on his YouTube Sports Channel "Fernando Rodriguez. Baseball & Other Sports." He is the author of Pase usted Señor Jonron: La verdad sobre Pedro José Rodríguez, Estrellas del béisbol en Cuba: Década del 70, Estrellas del béisbol en Cuba: Década del 80, Armando Capiró: Grande por siempre and Antonio Muñoz: Del Escambray a Tokío.
Alfonso Emilio Saer Bujana, newspaper reporter and a pioneer of baseball radio announcing in Venezuela. He began his career at the age of 17 in 1964 and continues to this day as the voice of rhe Cardenales de Lara, a role in which he began during the 1965-66 season.
María Elena Serrano, who provided bonus information about the Passionist church in La Víbora neighborhood.
This biography was reviewed by Gregory H. Wolf and Jan Finkel and fact-checked by Tim Herlich.
SABR member Sam Gazdziak's research for the Posada obituary on his website RIP Baseball was also helpful in the development of the story.
Other Resources
Books
Figueredo, Jorge S. Who's Who in Cuban Baseball 1878-1961, Jefferson, North Carolina and London: McFarland and Company (2003).
Martínez Peraza, Marino, Por Amor a la Pelota, Miami, Florida: Emmanuel Publisher Inc. (2017).
Torres, Angel, La Leyenda del Beisbol Cubano. Miami, Florida: Review Printers (1996).
Treto Cisneros, Pedro, ed., Enciclopedia del Béisbol Mexicano, Mexico City, Mexico: Revistas Deportivas, S.A. de C.V. (11th edition, 2011).
Internet resources
ancestry.com
baseball-reference.com
mlb.com
pelotabinaria.com.ve (Venezuelan statistics)
Notes
1 José I. Ramírez, telephone interview with Leo Posada, November 12, 2016 (hereafter Ramírez-Leo Posada interview).
2 Fernando Rodríguez Álvarez, "Estrellas de Siempre: Entrevista Cara a Cara con Leo Posada," interview from YouTube. First interview, August 5, 2020 (https://www.youtube.com/watch?v=tkn7XcpxlmM). Hereafter Rodríguez Álvarez interview #1.
3 Laura Posada and Jorge Posada, The Beauty of Love, New York: Atria Books (2010): 17.
4 Rodríguez Álvarez interview #1.
5 José I. Ramírez, interviews with Mario Enrique Barceló, October 14, 2022 (hereafter Ramírez-Barceló interview); Martha Posada Barceló, October 14, 2022 (hereafter Ramírez-Posada Barceló interview); and Georgina (Prieto Posada) Echert, October 15, 2022 (hereafter Ramírez-Echert interview #1). Martha confirmed with Mario Enrique Barceló on November 29, 2022, that her given name is spelled with an 'h' (it is commonly spelled Marta in Spanish).
6 José I. Ramírez, interview with Georgina (Prieto Posada) Echert, December 6, 2022 (hereafter Ramírez-Echert interview #2).
7 These records include Posada's I-94 immigration form upon arriving from Cuba via Mexico on March 3, 1961, to join Kansas City in spring training. The same date also appears in his Petition for Naturalization with the U.S. government. One may infer that he would not jeopardize his legal status by indicating a date that was not correct. Finally, his family provided that date for his grave inscription. Furthermore, Posada cited it while he was alive when interviewed by Lou Hernández for the book Memories of Winter Ball, Jefferson, North Carolina: McFarland & Company (2011): 50.
8 Ramírez-Echert interviews #1 and #2.
9 Rodríguez Álvarez interview #1.
10 Rodríguez Álvarez interview #1.
11 Hernández, Memories of Winter Ball: 50.
12 Ramírez-Echert interview #1.
13 Ángel Torres, La Leyenda del Beisbol Cubano. Miami, Florida: Review Printers (1996). 212-213.
14 Ramírez-Posada Barceló interview. Confirmed by interview with José (Chamby) Campos on December 13, 2022.
15 Jim Sims, "Posada Jolted Texas Loop with His Sonic-Boom Bat," The Sporting News, September 11, 1965: 37.
16 Sam Gazdiak, "Obituary: Leo Posada (1936 sic-2022)," RIP Baseball, July 2, 2022 (https://ripbaseball.com/2022/07/02/obituary-leo-posada-1936-2022/).
17 Ramírez-Posada Barceló interview.
18 Rodríguez Álvarez interview #1.
19 Rodríguez Álvarez interview #1.
20 Rodríguez Álvarez interview #1.
21 Roberto González Echevarría, The Pride of Havana. New York, Oxford: University Press (1999): 213.
22 Marino Martínez Peraza, Por Amor a la Pelota, Miami, Florida: Emmanuel Publisher Inc. (2017): 29.
23 Parra played in Cuba's professional league during the 1944-45 and 1945-46 seasons, the Cuban Independent League for the Oriente club in 1946 and with the Havana Cubans in 1947 and 1948.
24 Martínez Peraza, Por Amor a la Pelota: 55, 186.
25 Torres, La Leyenda del Beisbol Cubano: 212-213.
26 "The Clippers," Corpus Christi Times, May 2, 1956: 24.
27 Lake Charles (Louisiana) American-Press, June 29, 1954: 10.
28 Rodríguez Álvarez interview #1.
29 Rodríguez Álvarez interview #1.
30 Bob Padecky, "Posada breaks sound barrier," Fort Lauderdale News and Sun-Sentinel, April 27, 1975: 8D.
31 Ramírez-Barceló interview. Ramírez-Posada Barceló interview.
32 Hernández, Memories of Winter Ball: 52. José I. Ramírez, interview with María Elena Serrano, October 29, 2022. Built in 1936-48, it was the first Passionist church in Cuba and its correct name was Iglesia del Sagrado Corazón de Jesús y San Pablo de la Cruz. During the initial construction, the church was named Iglesia de Santa Cruz; the name was changed after completion.
33 José I. Ramírez, interview with Roberto (Bobby) Ramos, October 12, 2022 (hereafter Ramírez-Ramos interview).
34 Ramírez-Barceló interview #2.
35 Jorge S Figueredo, Who's Who in Cuban Baseball 1878-1961. Jefferson, North Carolina and London: McFarland and Company (2003): 184-85.
36 Hernández, Memories of Winter Ball: 52.
37 "Nicaragua's Top Hitters," The Sporting News, December 18, 1957: 25.
38 Rodríguez Álvarez interview #1. Hernández, Memories of Winter Ball: 52.
39 Hernández, Memories of Winter Ball: 52.
40 Hernández, Memories of Winter Ball: 54.
41 Figueredo, Who's Who in Cuban Baseball 1878-1961: 184-85.
42 Ernest Mehl, "Power-Walloper Posada Wins Job as A's Gardener," The Sporting News, April 19, 1961: 18.
43 Confirmed by José I. Ramírez with Miguel de la Hoz on December 8, 2022.
44 Ramírez-Leo Posada interview. Andrés Pascual, "El Ultimo Campeonato de Beisbol Profesional Cubano," Baseball 007, November 21, 2011 (https://beisbolnew.wordpress.com/2011/11/21/el-ultimo-campeonato-de-beisbol-profesional-cubano/).
45 Ramirez-Leo Posada interview. Originally published in Ramírez, Cuba and the "Last" Baseball Season: 39-40.
46 The home run against Luis Tiant occurred on November 11, 1960, as noted in the "Jonrones hasta el Presente" column on November 24, 1960 (the newspaper is unspecified in the clipping in José Ramírez's collection).
47 Barbudos were what government soldiers under Fidel Castro were called, especially those that had fought in the mountains in Cuba because of the long beards they grew during the revolutionary war.
48 Rodríguez Álvarez interview #1.
49 Ramírez, Cuba and the "Last" Baseball Season: 39-40.
50 Ramírez, Cuba and the "Last" Baseball Season: 40.
51 Ramírez, Cuba and the "Last" Baseball Season: 133-34. Matos was at the time responsible for the direction of sports in general (Dirección General de Deportes) which preceded INDER (Institute for Sports, Physical Education and Recreation)
52 Ramírez-Ramos interview.
53 "Athletics," The Sporting News, January 18, 1961: 25. Ernest Mehl, "Frank Snaps Swap Slump, Swings '5-for-3' K.C. Deal," The Sporting News, February 1, 1961: 7.
54 While the major leagues and the Mexican Government had an agreement to allow players to travel to Mexico as a stopping point on their way to the U.S., each player secured a visa through the team that had signed them. As Miguel de la Hoz told José I. Ramírez on December 8, 2022, the Indians paid for his expenses, and it stood to reason that other teams would do the same since they were the primary beneficiaries of the player reaching the team in the U.S.
55 Ramirez, Cuba and the "Last" Baseball Season: 134.
56 Ernest Mehl, "Power-Walloper Posada Wins Job as A's Gardener," The Sporting News, April 19, 1961: 18.
57 Clifford Kachline, "Cuban Standouts Shun Own Land, Play Elsewhere," The Sporting News, November 29, 1961: 54.
58 José I. Ramírez, interview with Betty Fernández, October 6, 2022. Jan Dickerson, "Cuban jails can't silence the Posadas," Kansas City Star, April 29, 1962: 1.
59 Ramírez-Posada Barceló interview.
60 Dickerson, "Cuban jails can't silence the Posadas."
61 "Hill and Homer Leaders," The Sporting News, August 3, 1963: 37.
62 Horacio Ruiz, "Estrellas Cops Latin Title Behind Top-Notch Hurling," The Sporting News, February 22, 1964: 27.
63 "Posada Gamble Pays Off," The Sporting News, June 20, 1964: 37.
64 Sims, "Posada Jolted Texas Loop with His Sonic-Boom Bat."
65 "Nicaragua Notables," The Sporting News, February 13, 1965: 25.
66 "Cellar-Dweller Austin Leads All-Star Voting," The Sporting News, September 18, 1965: 39.
67 Sims, "Posada Jolted Texas Loop with His Sonic-Boom Bat."
68 Horacio Ruiz, "Oliver, Lundgren, Scott Bat Kings of Boer Victory," The Sporting News, February 12, 1966: 25.
69 In April, it was reported that Posada would take over managerial duties from Pacheco on June 1, 1968, at which time Pacheco would become manager of Covington in the Appalachian League. See "Minor League Directory," The Sporting News, April 13, 1968: 34. However, Posada took the reins on May 23, 1968. See The [Cocoa] Evening Tribune, May 27, 1968: 10.
70 José I. Ramírez, interviews with Betty Fernández, February 3, 2021, and March 29, 2021.
71 Petition for Naturalization document, provided by Clemente Amézaga on August 12, 2022.
72 Research reveals two corrections to the totals presented on Baseball-Reference.com. Cocoa had a 19-19 won-lost record under Tony Pacheco at the time Posada took over as manager on May 23, 1968. Posada's managerial record that year was 55-46. Daytona Beach in 1978 had a 21-48 record under Posada when Chuck Sprinkle took over as manager on June 19 of that year. See "Astros Tab Sprinkle," The Sporting News, July 8, 1978: 41. The change came about because Posada had hurt his knee and then aggravated the injury as a result of two on-field melees on April 20 and May 21. See "Peacemaker Posada?", The Sporting News, June 10, 1978: 42. Sprinkle was named interim manager while Posada was hospitalized. See "Class A Leagues," The Sporting News, June 24, 1978: 45.
73 Joe McGuff, "McKeon Denies Royals Paupers in Garden," The Sporting News, January 5, 1974: 33. Joe McGuff, "Royals Brace for Otis-Rojas Salary Squawls," The Sporting News, January 12, 1974: 38.
74 Confirmed by Roberto (Bobby) Ramos in an interview with José I. Ramírez on December 13, 2022.
75 José I. Ramírez, interview with Orlando González, October 10, 2022 (hereafter Ramírez-González interview).
76 Fernando Rodríguez Álvarez, "Estrellas de Siempre: 2da Entrevista Cara a Cara con Leo Posada," interview from YouTube. Second interview, July 8, 2021 (https://www.youtube.com/watch?v=1I-9bcL8W8w). Hereafter Rodríguez Álvarez interview #2.
77 Ramírez-Ramos interview.
78 Dave Sulz, "Dodger instructor Posada enjoys his work," Lethbridge (Alberta) Herald, June 19, 1979: 12.
79 José I. Ramírez, interview with Fernando Rodríguez Álvarez, October 12, 2022 (hereafter Ramírez-Rodríguez Álvarez interview), Ramírez-Ramos interview.
80 Rodríguez Álvarez interview #1.
81 Jim Baumbach, "Posada a good student – relatively speaking," Newsday, March 9, 2006: A68.
82 Rodríguez Álvarez interview #1.
83 Baumbach, "Posada a good student – relatively speaking."
84 Tyler Kepner, "For Posada, It's Sooner Rather than Later," New York Times, February 15, 2006.
85 Rodríguez Álvarez interview #1.
86 Ramírez-Barceló interview, Ramírez-Echert interview #1, and Ramírez-Posada Barceló interview.
87 José I. Ramírez, "Cuban Players Panel" organizer at the 2016 SABR Convention.
88 Rodríguez Álvarez interview #1.
89 Rodríguez Álvarez interview #1.
90 Rodríguez Álvarez interview #2.
91 José (Chamby) Campos, June 24, 2022. José I. Ramírez, telephone interview with the Caballero Rivero Westchester Funeral Home on October 7, 2022.
92 Edemio Navas González, "Muere en Miami Leo Posada, ex jugador de MLB," Radio Televisión Martí, July 1, 2022 (https://www.radiotelevisionmarti.com/a/muere-en-miami-leo-posada-ex-jugador-de-mlb/328312.html)
93 Ramírez-González interview.
94 "Obituary: Leo Posada," Dignity Memorial website, com, June 2022 (https://www.dignitymemorial.com/obituaries/miami-fl/leo-posada-10805018)
95 Alfonso Saer, message to José I. Ramírez from Venezuela on October 10, 2022 (via Orlando González).
96
Fernando Rodríguez Álvarez on November 2, 2022, and Mario E. Barceló on November 3, 2022.
These, and other biographies, can be found at http://www.sabr.org.    Select the "Research" menu and then choose "Baseball Biography Project".